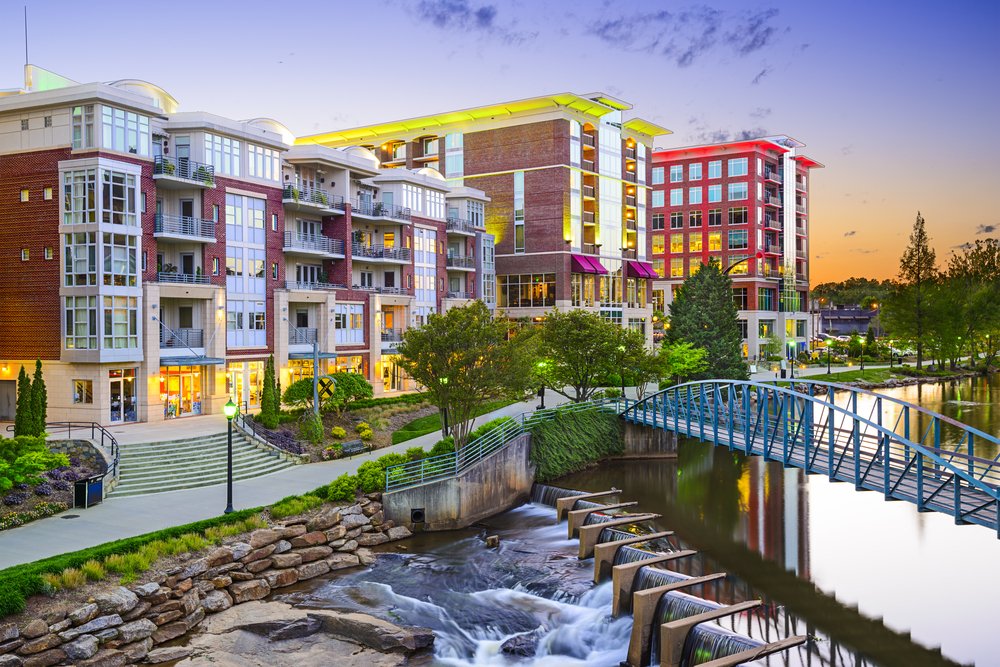 If you've just moved to Greenville or you are going there on vacation, congratulations. You've found a spot that is still relatively unknown and not overrun with residents and tourists. You've also picked a spot that offers many great ways to spend your free time.
The following lists nine things to do in Greenville. You'll find even more once you get to know the place. And don't forget to ask around – the locals not only know the place well but also are more than happy to share what they know with you.
There's a reason they have a reputation for friendliness.
1. Falls Park on the Reedy
The park is right in downtown Greenville. Inside, you'll find shady walking trails, beautiful stonework, picnic areas, waterfalls, gardens, and public art. The 32-acre park is connected throughout by a cantilevered, curved pedestrian suspension bridge. It also includes the famed Liberty Bridge. A recent addition is the Pendrick Gardens at the park's main entrance. It's built around the theme of sunflowers and has a new pedestrian bridge. Local shops, craft beer pubs, and many restaurants surround the park.
2. Prisma Health Swamp Rabbit Trail
Opened in 2009, this 22-mile trail runs from the Blue Ridge Escarpment through Greenville. The trail is designed for bicycling, walking, and jogging. It winds along the Reedy River and offers a healthy way to enjoy the beauty of Greenville. You can rent a bike for use on the trail.
3. The Peace Center
This performing arts venue is the home of the Greenville Symphony Orchestra, the Greenville Chorale, two ballet companies, and the South Carolina Children's Theater. It also has touring Broadway shows, concerts, comedy acts, and musicals. The Peace Center features a 2,100-seat concert venue, a 400-seat theater, and an outdoor amphitheater.
4. Paris Mountain State Park
Just a few miles north of Greenville, Paris Mountain State Park offers camping, biking trails, walking trails, a lodge, cabins, picnic areas, and much more, all surrounded by incredible lush scenery. The bathhouse and lodge are on the National Registry of Historic Places.
5. Greenville County Museum of Art
Closed for construction until early 2022, the Greenville County of Museum of Art is definitely worth a visit once it reopens. It's home to the largest collection of watercolors by American artist Andrew Wyeth. It also has a pottery collection from enslaved artist David Drake and the largest collection of art by South Carolina artist William H. Johnson outside of the Smithsonian. The museum focuses on American artists with a connection to the South.
6. Bob Jones University Museum and Gallery
The Bob Jones University Museum and Gallery offers one of the biggest collections of paintings of Old Masters that you can see in the United States. The collection of religious paintings includes works by Rubens, Tintoretto, and Van Dyck. This museum is also currently closed, with plans to open at a new location near downtown Greenville.
6. Runway Park at GMU
This is a must for plane-loving kids. The park is close to the Greenville Downtown Airport. While watching planes take off and land, kids can have fun on a large playground visually anchored by a Cessna mounted on a tall pole. The park also offers educational information about aviation on placards throughout the park.
7. Six and Twenty Distillery
This "grain to glass" distillery uses all locally sourced ingredients to make its premium spirits. You can tour the distillery, and try samples of their product, in its location on Perry Avenue in Greenville. There's also a gift shop and cocktail bar.
8. The Children's Museum of the Upstate
This is one of the first children's museums in the United States to become affiliated with the Smithsonian. It has 80,000 square feet and 21 exhibit galleries, all aimed at children. The exhibits focus on the humanities, environment, health, nutrition, community engagement, and other topics.
9. Poinsett Bridge
Visiting the Poinsett Bridge gives you a chance to enjoy nature while also getting to see history. The stone bridge, which includes a pointed, 14-foot Gothic arch, sits at the heart of forested area northeast of Greenville. Built-in 1820, the bridge still stands as originally constructed over Little Gap Creek. Experts believe it was designed by Robert Mills, who also designed the Washington Monument. Most visitors enjoy the peaceful surroundings and the unspoiled nature of this historic site.
These nine places can get you off to a great start if you just moved to Greenville and want to explore the area. If you're visiting, they can fill up your itinerary for many days. Take the time to enjoy all the peaceful beauty Greenville and the surrounding area offer.
Planning A Move To South Carolina?  Good Greek Greenville is Your Total Relocation Solution, Learn More Now!